HONG KONG, Mar 10, 2023 – (ACN Newswire via SEAPRWire.com) – Yuexiu Real Estate Investment Trust ("Yuexiu REIT" or the "REIT"; stock code: 00405) announced today its 2022 annual results for the year ended 31 December 2022.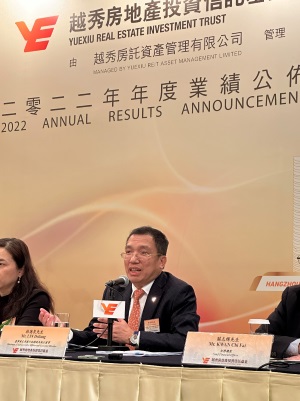 Mr. LIN Deliang, Chairman, Chief Executive Officer & Executive Director
2022 Annual Results Highlights:
Overall operation remained stable, with 100% distribution rate for the 17th consecutive year:
— Revenue for 2022 was RMB1,873 million, representing a 4.2% growth over last year.
— Declared final distribution of approximately RMB0.0399 per unit, equals to approximately HK$0.0453. Distribution per Unit for the Reporting Year is approximately RMB0.1133, equal to approximately HK$0.1306. Distribution yield was approximately 6.63%.
— For 17 years since it was listed in 2005, the REIT has distributed 100% of its distributable income to Unitholders.
Guangzhou International Finance Center (GZIFC) office rental business was developing steadily. Average occupancy rate and room rate of The Ascott Serviced Apartments increased steadily:
— Operating revenue of GZIFC was RMB880.2million, accounting for 47.0% of the total revenue of the REIT.
— Overall performance of the Hotel and serviced apartment remained as market benchmarks. The Ascott Serviced Apartments recorded increase in both average occupancy rate and average room rate. Long-term leasing business was stable, short-term rental business recorded a 10.7% increase in revenue year-on-year.
Actively managed due borrowings, effectively lowering financing cost:
— The Manager secured 3-year term syndicated loan of HK$3.8 billion in 2022 to refinance mature loans, thereby ensure effective monitoring and control of liquidity risk.
— Seized the favorable window in the RMB interest rate market, the Manager completed the onshore financing of approximately RMB1,284 million in July 2022, effectively reducing the financing cost.
Wuhan Yuexiu Fortune Center obtained LEED O+M platinum certification for the first time whereas Yuexiu REIT continues to build up ESG capability:
— Wuhan Yuexiu Fortune Center obtained LEED O+M platinum certification for the first time, which is the third property under the REIT to be LEED O+M platinum certified. Currently, the REIT has three LEED Platinum certified properties, constituting up to 68% of the property area it owns.
— The REIT also sealed its first sustainability-linked loan of total amount HK$3.8 billion, effectively raising the proportion of green buildings under it, as well as that of green and sustainable financing.
Its revenue for 2022 full year amounted to RMB1,872.86 million, representing a 4.2% increase when compared with the same period last year. Net Property Income amounted to RMB1,355.87 million, representing a 4.4% increase compared with the same period last year.
Yuexiu REIT Asset Management Limited (the "Manager") has declared a final distribution of approximately RMB0.0399 per unit, equivalent to approximately HK$0.0453. Distribution per Unit ("DPU") for the Reporting Year is approximately RMB0.1133, equivalent to approximately HK$0.1306, based on the closing price of HK$1.97 per Unit as at 31 December 2022, representing a yield of approximately 6.63%. The REIT has been distributing no less than 100% of its Total Distributable Income for 17 consecutive years since listing in 2005.
Mr. Lin Deliang, Chairman, Chief Executive Officer and Executive Director of Yuexiu REIT, said, "In 2022, Yuexiu REIT adopted a prudent approach in operation and realized steady increase in revenue. Its aim is to provide Unitholders with stable returns. Since 2005, for 17 years in a row, we have distributed all of our distributable income. The REIT has also started to extend its reach to cover overseas properties. It acquired its first overseas properties, which are the 17th and 23rd floor of Yue Xiu Building in Hong Kong, to create additional growth potential. The international environment will still be complex in 2023 with the risk of global economic stagflation rising. However, with the Chinese government having optimized and adjusted her anti-epidemic policies, the mainland economy has picked up steadily, and the financing environment has been improved. Yuexiu REIT will seize favorable opportunities, make progress in firm strides and present satisfactory returns to Unitholders. "
Guangzhou International Finance Center (GZIFC)
GZIFC is committed to optimizing its customer structure and enhancing service quality. It grasped the opportunity to rent out sizeable high-quality units, as well as optimize its long-term customer structure through bringing in quality customers and expanding its customer base, and eventually, reshaped its image as a landmark project. Insisting on adopting high international operation and management standards, GZIFC passed relevant revaluations at the end of 2022 and obtained BOMA CHINA COE renewal certifications, with 15 items well above international standards.
GZIFC Mall took the initiative to adjust and renovate, completed the re-positioning of B1 floor as "Landmark Parlor", resulting in optimized asset positioning. Moreover, via resource integration and multi-channel tenant recruitment, it was able to sign leases with new tenants taking up spaces of more than 3,000 sq.m. during the year, further enhancing the awareness of brands and enriching its brand portfolio. Combined with the scenario-based marketing supported by its brands, it was able to enhance overall customer experience and increased support to tenants' operations.
Four Seasons Hotel actively participated in live events and major promotions on leading media platforms to boost its exposure and seize high net worth leisure travelers, and thus increase the overall revenue of its hotels. For the eighth consecutive year, the hotel has earned the "Forbes Travel Guide 2022 Five-Star Award" for its consistently excellent services. As for Ascott Serviced Apartments, its long-term rental business remained stable, while short-term rental business recorded a year-on-year increase of 10.7%, giving an effective pull to the overall operational performance of the project. In 2022, its average occupancy rate rose by 1.3 percentage points year-on-year. The average room rate increased by 1.5% year-on-year. RevPAR was RMB874, representing an increase of 3.1% year-on-year. Thanks to the stabilizing effect of the long-term rental business, the annual RevPAR competitive index of Ascott Serviced Apartments reached 156.3, a historical high. The project has for seven years from 2016 topped all Ascott China projects in terms of operating revenue and GOP.
Yuexiu Financial Tower
Yuexiu Financial Tower negotiated with key tenants in advance for lease renewal, while fortifying relationship with customers via multiple channels and proactively exploring customers' potential need to lease bigger spaces. For the year, it renewed leases with key tenants, such as isuwang.com and Easylink Payment Co. Ltd., with total area leased out reaching 15,000 sq.m., laying a solid foundation for the stable operation of Yuexiu Financial Tower. Key customers such as Kaiyue Hotel Consulting Service (Guangzhou) Co., Ltd. and CR Assets, leased bigger spaces during the year, with the new contracted area reaching 18,000 sq.m.
White Horse Building
White House Building had to close three times amid the pandemic. Its operation team, while working hard to stabilize and retain merchants, also pushed to innovate and change in the face of market competition. The team actively explored high-quality external customers, comprehensively engaged leading brand customers in major competitive markets in Guangzhou. As such, it signed leases with two top fast fashion brands, has engaged a total of 702 potential customers and introduced in 104 high-quality customers. It also actively facilitated breakthrough in tenant portfolio and drove innovation of business model. For example, it introduced a number of well-known catering brands to the atrium on the first floor, which boosted market traffic significantly. On the second floor, in the standalone area of passage 25, it adopted an innovative joint operation leasing model, allowing it to introduce a good number of high-quality designer brand customers from Guangzhou and Shenzhen. Furthermore, it continued to carry out marketing activities to attract customers for tenants and facilitate transactions.
Fortune Plaza and City Development Plaza
Fortune Plaza adjusted the business positioning of its podium building. By letting parts of the area with lease expired to introduce a number of stable customers and having the Fortune 500 company COSCO Logistics to expand its lease area to the entire floor, the proportion of high-quality customers of the project has kept increasing. As for City Development Plaza, it actively eliminated the risk of lease termination by swiftly introducing high-quality customers such as WUYIGE Certified Public Accountants LLP, and at the same time vigorously promoted product upgrade to optimize the layout of rental units and user experience.
Victory Plaza
With at the impact of the resurging epidemic, Victory Plaza continued to experience early lease termination by struggling tenants. In response, the operation team took the initiative to adjust the project's positioning and brand and terminated timely leases with high-risk customers, and seamlessly introduced the popular Cantonese cuisine brand Xiao Li Yuan and the well-known hair care brand Hairology as tenants. Furthermore, through pooling internal and external resources, a number of impressive large-scale events were organized, empowering well-rounded tenants and project operations. In 2022, Victory Plaza earned the titles "Top 10 Fashion Shops in Flower City" and "Caring Charity Unit", reflective of it being fully recognized by the industry.
Shanghai Yue Xiu Tower
Shanghai Yuexiu Tower has unique lease renewal plans drawn up for its high-quality customers, with the primary goal of retaining customers with all efforts. By enriching its range of office ancillary products and offering flexible leasing terms and conditions, plus various value-added services, it achieved an annual renewal rate exceeding 78% for the year, hitting a new high in the last three years. It kept its eye on the quality of new tenant companies, introduced five target customers during the year, resulting in a more reasonable tenant structure and improved risk resistance. Taking into account market demand, some long vacant units were renovated and reconstructed, and most of them with refined d?cor were leased out quickly. The sell-through rate of renovated units reached 91%.
Wuhan Properties
The operation team of Wuhan Yuexiu Fortune Center stepped up efforts to recruit tenants, mounting activities targeting different industry circles to attract customers and restructuring products according to market demand, as such, achieving new contracted lease area of approximately 16,000 sq.m. At the same time, it carried out lease renewal negotiations in advance to build up reserve of potential customers. In 2022, Yuexiu Fortune Center won the "Model Property of Wuhan" title. With the Manager taking building ESG capability as a strategic priority, Fortune Center received its first LEED O+M Platinum certification and became the third property under the Trust to obtain the accreditation.
Starry Victoria Shopping Centre saw a decline in sales and many tenants terminating their lease. In response, the operation team strived to expand various channels in building up tenant reserve and raising contract conversion rate. During the year, it signed contracts with brand customers including "Chow Tai Fook", "Luckin Coffee" and "Pizza Hut" which helped foster overall retail sentiment and attracted more family customers. In 2022, Starry Victoria Shopping Centre offered two rounds of rental concessions to tenants affected by the pandemic and, with a "specific tactic for specific shop" support mechanism established, it effectively stabilized tenants' operation.
Hangzhou Victory
Hangzhou Victory proactively exited high-risk customers and engaged potential customers in advance to shorten the vacancy period. It secured a number of quality enterprises including the Fortune 500 company China Railway 15th Bureau, and powerful state-owned enterprises with strong renting ability, such as Shanxi Road & Bridge and Yuexiu Financial Leasing expanding their lease areas, as such vacant units were quickly leased out. As at the end of 2022, Hangzhou Victory boasted a 100% occupancy rate.
Sustainable Development
The Manager sees building up ESG capability as a strategic priority, regarding it as an important leverage to enhance the REIT's core competitiveness. Thus, with guidance from the Board, it has devoted full effort to helping the REIT achieve its sustainable development goals. On top of having its annual MSCI ESG rating raised to "BB", the REIT's Global Real Estate Sustainability Benchmark (GRESB) rating was raised to the green "Four Star", and it also scored the highest "A" rating for public disclosure for the second consecutive year. Its sustainalytics ESG risk rating improved to "low risk", and S&P Global ESG score also increased, by 13.3%, against last year.
Prospects
Regarding the economic trend in 2023, the global environment remains complex and challenging, and the risk of global stagflation is rising. However, the Chinese economy has been steadily recovering since the country optimized and adjusted her anti-pandemic policies. Against this backdrop, the Manager, staying true to its original aspiration of maximizing asset value, will implement leasing strategies actively yet with prudence, grasp potential investment opportunities quickly and carefully and expand financing opportunities in the capital market to effectively reduce financing costs, thereby continuously generate stable returns to Unitholders.
Taking into account situations such as interest rate hikes overseas, RMB exchange rate fluctuation and market development expectations, the Manager will continue to review and make reasonable adjustments to the REIT's financing structure, looking into such as introducing low-cost RMB capital through onshore bond issuance or cross-border financing, so as to enjoy more favorable financing costs and mitigate interest rate and exchange risks.
The Manager will take to greater depth the REIT's energy saving and carbon reduction plan. It will push to deepen development in the areas of green building, green and sustainable finance, and ESG rating. At the same time, the Manager will seize opportunities brought by the country's high-quality development, consolidate its sustainable development mechanism and enhance ESG management capabilities, and collaborate with all stakeholders to generate greater economic and social benefits.
About Yuexiu REIT
Yuexiu Real Estate Investment Trust ("Yuexiu REIT", HKEX stock code: 00405) was listed on The Stock Exchange of Hong Kong Limited on 21 December 2005. It is the first listed real estate investment trust in the world that invests in properties on the mainland of the People's Republic of China. Its property portfolio consists of ten high-quality properties namely Guangzhou International Finance Center, White Horse Building, Fortune Plaza, City Development Plaza, Victory Plaza, Yuexiu Financial Tower, Shanghai Yue Xiu Tower, Wuhan Properties (including Yuexiu Fortune Centre and Starry Victoria Shopping Centre) and Hangzhou Victory, with total area owned spanning approximately 1,184,000 square meters.
Copyright 2023 ACN Newswire. All rights reserved. (via SEAPRWire)